FREE Christ-centered Recovery VIDEO Series­­­­­­­­­­­­­­­­­­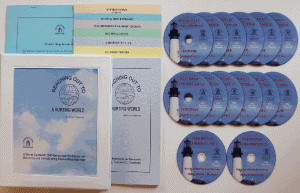 Recovery In Christ Ministries has produced and is making available the Christ-centered DVD Series available for download or viewing on You-Tube (Embedded Below). This series will greatly compliment any recovery program. These Videos along with the workbook, handouts and other written materials will provide you all you need to get started on the road to recovery and a closer relationship with Jesus. Click HERE for: Free written materials
For a small Donation to Recovery In Christ Ministries to cover costs, we can provide you with a Thumb Drive containing all the above materials to better assist you in making your program portable and presentable. Please contact us for details. We want as many as possible to have access to a life changing relationship with Jesus Christ, this website and associated recovery materials are just a resource to help you and your groups along the journey. If you would like to join us in reaching out to a hurting world, we gladly welcome your prayers and support.
Philippians 4:8 (NIV)
Finally, brothers and sisters, whatever is true, whatever is noble, whatever is right, whatever is pure, whatever is lovely, whatever is admirable—if anything is excellent or praiseworthy—think about such things.
(No Purchase is ever Required to receive these materials)
| | |
| --- | --- |
| Step 1 | |
| Step 2 | |
| Step 3 | |
| Step4 | |
| Step 5 | |
| Step 6 | |
| Step 7 | |
| Step 8 | |
| Step 9 | |
| Step 10 | |
| Step 11 | |
| Step 12 | |
| Start Over | |