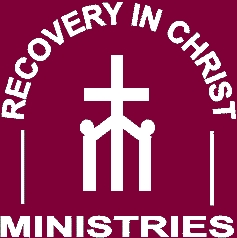 Are you thinking it would be great to have a Christ Centered Recovery Meeting in your area? Have you been looking for a way to reach those in your church congregation with life controlling issues and/or struggles with addiction?
Do you have a desire to reach out to your community, and those in recovery searching for a Higher Power that will solve their problems?
Contact us and see how easy it is to start a vibrant, life changing 12-Step meeting for your community, half-way house, treatment facility, correctional institution, home fellowships or church. Recovery In Christ Ministries, Inc. is dedicated to helping any individual or institution in Reaching Out to a Hurting World while enabling true Recovery in Christ. This simple and effective approach requires very little resources making it a perfect addition to any Christ Centered ministry of Grace.
FREE: Christ-Centered Recovery Program
Recovery In Christ Ministries is making available a free (English Language) digital copy of the workbook "Reaching Out to a Hurting World." We have also made available digital copies of all handouts and written materials necessary to organize and facilitate a Christ-centered recovery group in your area.
The program has been successfully used in churches and rehab programs throughout the world. It is also an invaluable resource to encourage and guide you in your individual program of recovery from life-controlling issues.
When you download this free information we also provide instructions and permission statement in order to print and use these materials for you and members of your non-profit group.
In return, we would like to hear from you in order to share your gratitude with others. Please like us on FaceBook and join our Group Discussion Page to let us know you have downloaded our materials. We will also provide a place for you to list your local Recovery In Christ meetings if you desire. Please continue to pray for this ministry and support us when you are able.
Thank you for downloading the Recovery In Christ recovery materials (above). You will need to have Adobe Acrobat Reader installed on your computer in order to view the files (Free download at: http://get.adobe.com/reader/). I trust you will find them a blessing to you and in reaching out to a hurting world. If you have any questions please do not hesitate to contact us. As always, we will never use your personal information for solicitations and will not share your information with any third party, please see our Privacy Statement for more information.
* "¿Hablas español?" *
We need your help in translating the Recovery Workbook into Spanish so that we can make it available to more individuals and churches. We first began the process while on a mission trip to the Yucatan and are now trusting God to provide the finishing touches. Please contact me if you are able or interested in helping us in this translation project to make these written resources available to our Hispanic community.
We need to have it proof read and compared to the English version to check for accuracy, readability, syntax and correct structure for conveying the Christ Centered message of recovery. Please contact us for more information at: RecoveryInChrist@outlook.com
Here is what we have so far: Recovery Workbook – PDF Spanish
_____________________________________________________________________
FREE Christ-centered Recovery VIDEO series­­­­­­­­­­­­­­­­­­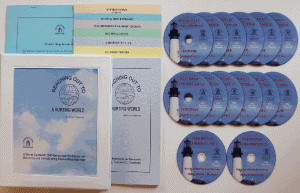 Recovery In Christ Ministries has produced and is making available the Christ-centered Video Series available free for download or viewing on You-Tube. This series will greatly compliment any recovery program. These Videos along with the workbook, handouts and other written materials above will provide you all you need to get started on the road to recovery and into a closer relationship with Jesus.
NOTE: We have a very limited supply of the original program beautifully packaged as in the picture and described in the DVD Brochure. These are available on a first come basis with free shipping for a suggested donation of $225 USD. Please contact us if you are interested in this opportunity.
For a suggested donation of $50 USD to Recovery In Christ Ministries to help cover costs, we can provide you with a Thumb Drive containing all the materials on this website plus additional resources as found in the DVD Brochure (in digital format) to better assist you in making your program portable and presentable. Please contact us for details. We want as many as possible to have access to a life changing relationship with Jesus Christ, this website and associated recovery materials are just a resource to help you and your groups along the journey.
If you would like to join us in reaching out to a hurting world, we gladly welcome your prayers and support to keep this website operational and to meet the needs of those still suffering. Your gifts are tax-deductible and help this ministry to continue to provide free recovery resources to those seeking a deeper relationship with Christ Jesus. Kindly use the donate button on the top of this webpage or see our contact page for our mailing address.
(No Purchase is ever Required to use the materials on this website for non-profit reasons)
Contact:
Recovery In Christ Ministries, Inc.
560 NE 130th Court
Silver Springs, Florida 34488-3720
RecoveryInChrist@outlook.com